Recover Faster & Train Harder With RecoveryPump Compression
RecoveryPump is the ultimate recovery device. This technology can increase circulation and improve mobility for those who work out regularly, are training for a competition or race, experience swollen legs from traveling frequently, stand for long hours on the job, or suffer from inflammation, sore muscles, or other circulatory issues.
RecoveryPump is used extensively in professional athletics and is utilized for both rehab and recovery by 97% of pro teams, as well as Olympic and elite athletes across a broad spectrum of sports. When you join us at TrueFitPhysiques Studiosin Jacksonville, you can take advantage of this incredible technology!
Just fill out the short form below to learn more!
Why Choose RecoveryPump Compression Recovery?
RecoveryPump is a pneumatic compression device that utilizes patented technology to increase circulation to the limbs. If you're in the Jacksonville area, you can see improved recovery and a stronger body through this awesome technology. TrueFitPhysiques Studios is committed to providing top-quality services to both professional and casual athletes.
RecoveryPump Compression will help you:
Decrease inflammation
Clear metabolites
Increase range of motion
Reduce soreness
RecoveryPump is the ultimate recovery system for muscular pain and body aches. The research behind our portable compression system has shown it to be a fast, simple and effective way to relieve workout fatigue and bolster recovery time.
RecoveryPump delivers serious athletes an aggressive but very natural alternative to passive recovery that far exceeds the results achieved from many traditional modes of recovery. Our system simulates localized "active recovery" in a passive manner because the therapy is conducted at rest.
Visit Our Infrared Sauna for Pain Relief, Relaxation, and More
If you've ever been in a sauna, chances are it was a conventional hot-rock or steam sauna. Compared with Infrared Saunas, steam saunas heat the air to unbearably hot levels, making it difficult to breathe and only causing sweat at the surface of the tissue. Infrared Saunas at TrueFit Studio use soothing, dry infrared heat that is well ventilated and extremely comfortable for optimum relaxation. It's a lot like safe sunbathing, allowing you to settle in to the comforting infrared heat with no risk of a sunburn.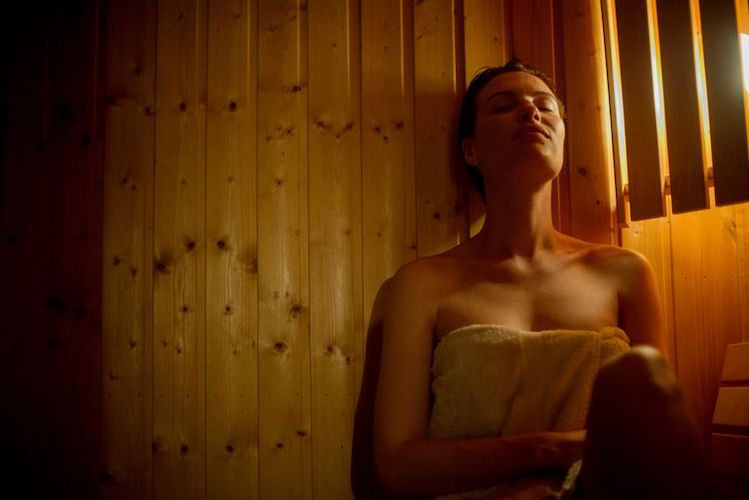 The beauty of the Infrared Saunas at TrueFit Studio is that you can program them to generate any combination of NIR, MIR and FIR heat customized to your needs. You can also choose from a range of preset wellness programs including:

Anti-Aging:

stimulates collagen production to reduce wrinkles and improve overall skin tone.

Weight Loss:

Burns up to 600 calories per session, all while sitting down.

Pain Relief:

Decreases pain and muscle spasms and speeds up recovery time.

Cardiovascular:

Clinically shown to reduce blood pressure and increase circulation.
Detoxification: strengthens the body's immune system and helps the body function more efficiently.

Relaxation:

Imparts gentle, soothing, therapeutic heat.
Get Started at TrueFitPhysiques Studios Today!
We are Jacksonville's source for recovery and performance training. The specialized RecoveryPump system will calibrate and mold to your exact body shape, compressing the affected area with motions similar to a massage, stimulating blood flow and working in harmony with the body's natural circulatory systems.
Just fill out the short form below to get started with RecoveryPump Compression!